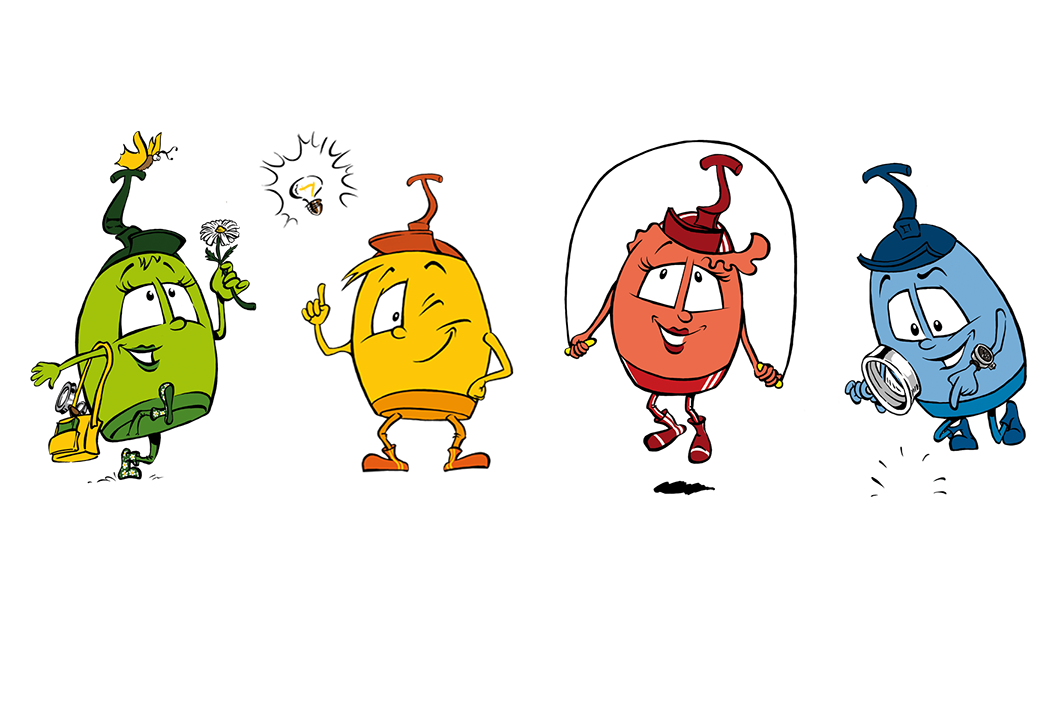 Our Rondos
The four small gondola figures Rondina, Rondu, Rondi and Rondinella live in Sattel-Hochstuckli. With a bit of luck, you discover one of the Rondos when you visit our region.
At the valley station you can get small soft-toy versions of the Rondos to take home (CHF 6 each).
Rondina
Rondina likes to get up early and loves nature. She enjoys exploring animals and plants and dreams of being a natural scientist. She loves hiking and gets a bit moony sometimes. Often she simply stops in her tracks to observe a plant or a rock. Rondina can whistle like a marmot and would love to encounter a real specimen one day. The only thing she dislikes is rain because she is afraid that her beautiful green coat could wash off. But that's never going to happen. In contrast to the other gondolas, Rondina favours salad above all other foods, and when nobody is watching, she grazes alongside the cows.
Rondi
Rondi has a thousand ideas in his head, and he is mighty proud of it. His favourite statement, in fact, is this: "I've got an idea, a brilliant one!" He is the most impatient of the four, likes to sneak away every so often and occasionally drives his mates crazy. He is quick to assert something and is not exactly a good listener. He also tends to take offence rather quickly. Every so often Rondi would claim that it is his birthday, just to gain an advantage. He would love to know what the other side of the suspension bridge looks like. But so far he hasn't mustered the courage to go and see for himself.
Rondinella
Rondinella loves all things round. Even more so than the other gondolas. She is a veritable night gondola and hates being roused early in the morning. She loves the stars and the moon. She is also very sports-minded, goes snowboarding and tobogganing in winter and would love to stage races all day long. Rondinella is a true chatterbox gondola, and sometimes a bit of a smart aleck, which can result in tiffs with the other gondolas. They do miss her stories, though, when she happens to be quiet for once.
Rondu
Rondu doesn't do anything without planning for it. He is very precise. You could call him the boy scout among the gondolas. That's why he carries a map wherever he goes. His knowledge is huge, and he loves all things technical. Spontaneity is not his forte, which is why the other gondolas find him a bit boring at times, a bit of a nerd. Then again, they keep getting themselves into situations where they'd be lost without the savvy Rondu. However, Rondu is not always so unflappable. He also has a rather substantial weakness for apple pie with whipped cream. It is his secret goal to sneak into the Bergrestaurant and get a hand on the recipe.