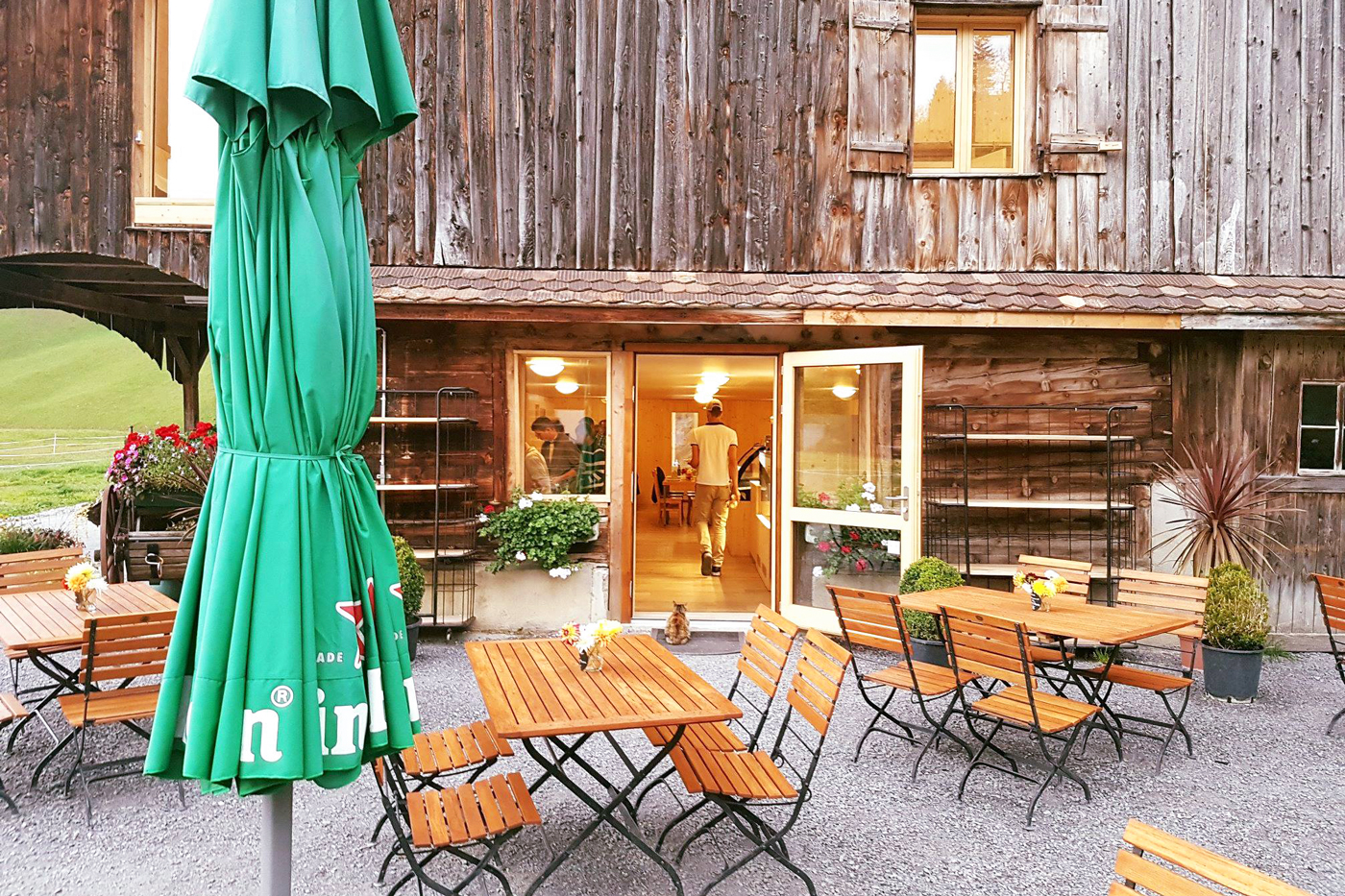 Ziegenhof Blüemlisberg – the goat farm
Here you can get the ice cold goat's milk ice cream.
The Blüemlisberg goat farm is home to climbing goats and five Galloway cattle. A beautifully decorated farm shop invites you to stay, relax and enjoy. This is where people, animals, enjoyment, nature and relaxation come together.
Visit us on the Blüemlisberg - comfortably with the Sattel-Hochstuckli railway and a 45-minute walk with a fantastic view.
Opening hours
| | |
| --- | --- |
| Summer season (April-Octobre) | |
| Wednesday or Thursday depending on weather, Saturday and Sunday open from 11:00 - 17:00 | |
| Monday, Tuesday and Friday rest day | |
In bad weather the farm store is closed. We reserve the right to close the farm store earlier if there is little activity
Hofstübli (24h)
If our farm shop is closed, our Hofstübli is available to you 24 hours a day. There you can stock up on coffee, drinks and of course our goat specialities. You can pay on site in cash or via Twint.
Ice cream made from goat's milk - goat's cold enjoyment

We obtain the pure goat's milk from our Blüemlisberg goat farm and refine the mountain milk on the farm at 1,200 metres above sea level in one of the highest glacé factories in Europe to produce a light, fruity and fresh goat's milk glacé.
Our innovative gelati are simply delicious, digestible and unique. With our own recipe, we have succeeded in producing a light and low-fat glacé - the palate and figure will quickly feel it!
Guided tour of Ziegenhof Blüemlisberg
If you bring 30 minutes of your time with you, you will learn more about the production of ice-cream, get to know the goats and how they are kept and enjoy a tasting of goat's milk ice-cream.
The goat farm
The Blüemlisberg goat farm, built in autumn 2017, offers not only a favourable climate in the stable but also access and exit routes for the goats that love to climb. The herd of goats can be optimally distributed in the brightly lit stable building and each animal finds a place to rest. Lower ranking animals feel less stress, which has a positive effect on animal welfare and milk quality.
Contact
Blüemlisberg AG
+41 41 810 10 22
info@bluemlisberg.ch
www.bluemlisberg.swiss
Location
Located directly on the Engelstock LOOP trail. 45 minutes on foot from the mountain station of the revolving gondola .