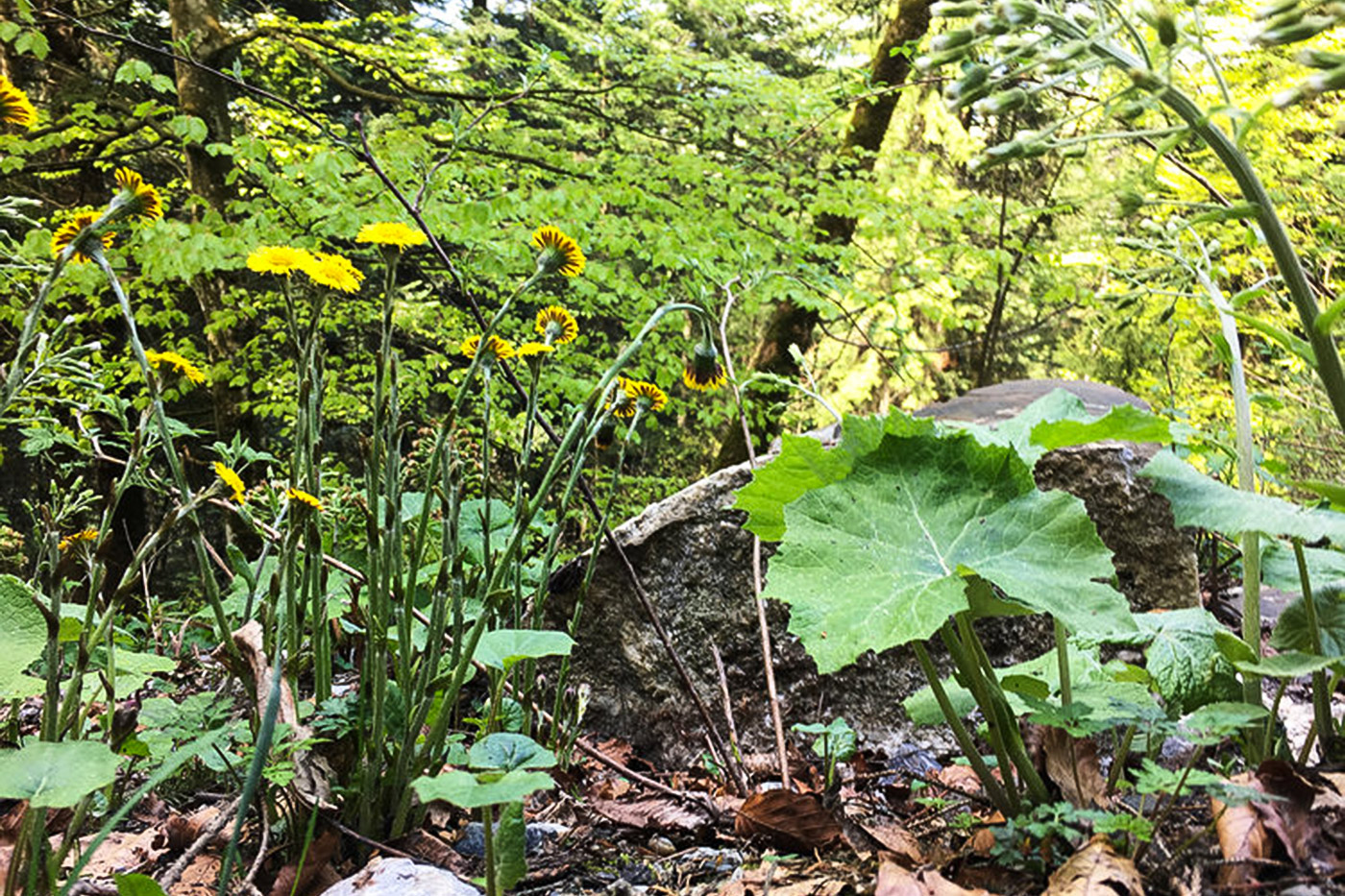 Wild plant tour
Discover which wild herbs are growing on your doorstep.
Stuckli's Wild Plant Drawing Tour
(1 day event)
Botanical drawing and learning about wild plants
Discover wild plants, enjoy nature and hike over hill and dale. Hochstuckli is home to a unique variety of plants. The soil conditions are always different, which is why the flora is so varied and exciting. A day in the fresh, unpolluted air, with mindful observation of wild plants is the perfect balance to the stressful daily routine.
We will discover and sketch one wild plant after another. For this purpose, each participant will receive a notebook. This way you will get to know the plants more intensively and can note down the information about edibility, healing properties, toxicity or botany right next to it. At the end we have a specially created notebook with what we have learned about the day.
Host Nadia Räber:
Certified expert advisor for edible wild plants
phytopractitioner Freiburg School of Medicinal Plants
botanical painter
Price

196 CHF excl. revolving gondola ride
210 CHF incl. revolving gondola ride

excl. lunch

- incl. small wild plant snack
- incl. sketchbook and pencils

Group sizes
min. 5 pers. max. 10 persons
Meeting point
9 a.m. mountain station Sattel-Hochstuckli / End 5 p.m.
Language
German
Dates

Saturday, August 19, 2023

Registration
info@sattel-hochstuckli.ch or 041 836 80 80
Wild plant tour groups
On the Sattel-Hochstuckli you can discover a variety of plant life. The soil is always different, sometimes swampy, sometimes fat, so the flora is also varied and exciting. A guided tour in the fresh, unpolluted air, with a careful observation of the plants is the perfect balance to the stressful everyday life.
During the 1.5 hour tour, you will get to know different plants from a specialist. You will learn their names, whether they can be used culinary, whether they can be used as healing medicine and many interesting facts about the plant world on the Sattel-Hochstuckli. Together we walk through nature with open eyes, explore plants, observe them more closely and taste a sweet wild little thing. The guided tour makes you want to discover the plant world even more. At the end you will receive an information sheet with plant portraits and a wild plant recipe.
| | |
| --- | --- |
| Group sizes | min. 8 pers. max. 20 persons (more persons by arrangement) |
| Price excluding gondola ticket | CHF 30 per person |
| Time | upon consultation |
| Meeting point | mountain station Sattel-Hochstuckli or by arrangement |
| Languages | German/English |
| Request and reservation | info@sattel-hochstuckli.ch or 041 836 80 80 |