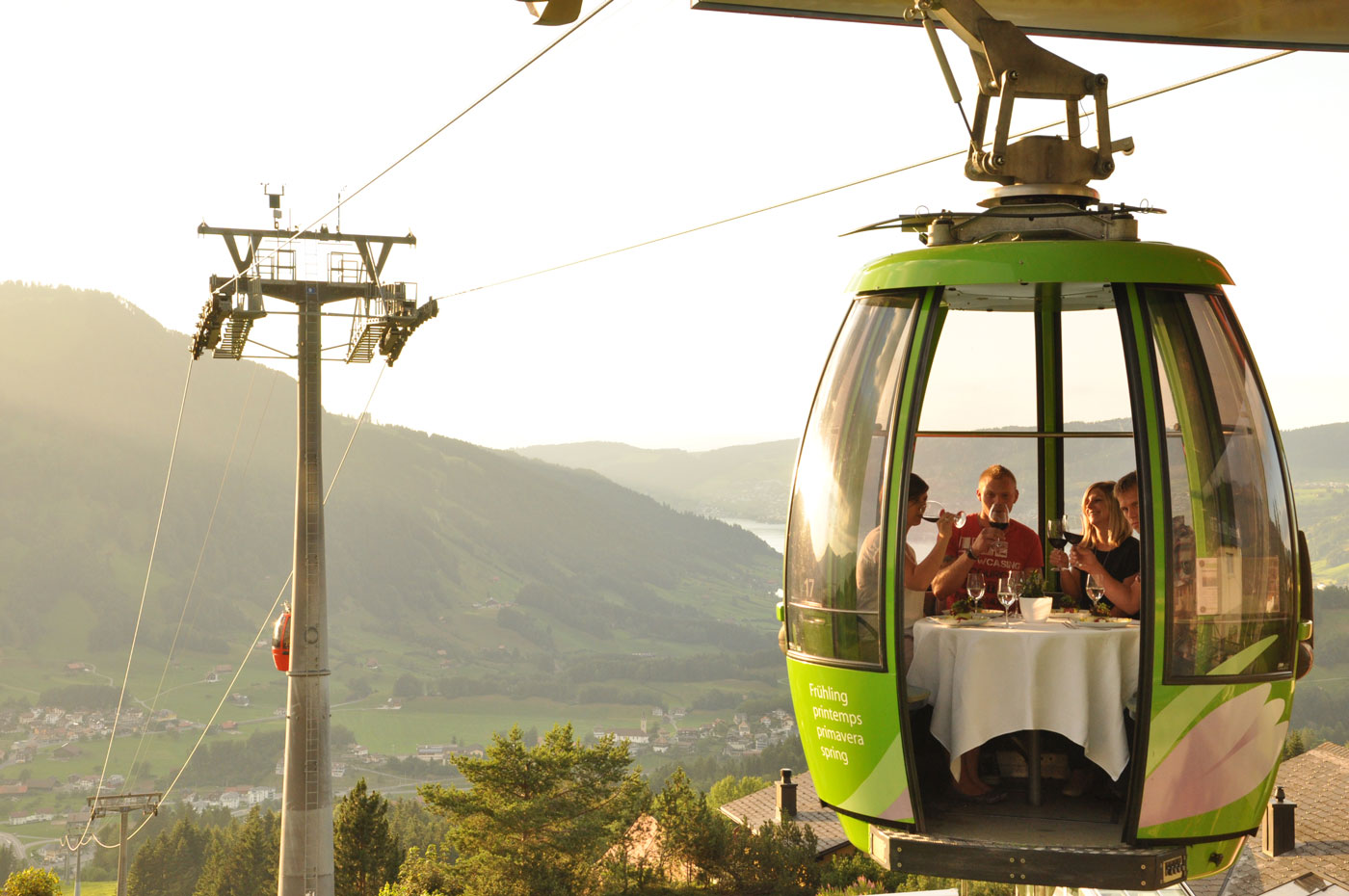 Stuckli Sky Dining
Unique ambience and exclusive food between heaven and earth
Do you have something to celebrate or would you like to surprise your loved ones with a unique culinary experience? Floating between heaven and earth, enjoy an unforgettable evening with culinary highlights.
Programme
19:00 Reception at the valley station of the revolving gondola lift in Sattel.
Afterwards we will serve you an aperitif and a starter in the gondola.
For the main course you will change to the Mostelberg mountain restaurant, right next to the mountain station.
Dessert and coffee will be served in the gondola again.
After sunset, at about 22.15 hrs, you will be back at the valley station.
Offer includes
Aperitif and 3-course menu in the revolving gondola/mountain inn Mostelberg incl. wine, mineral water, coffee
Ride on the revolving gondola
Rates
2-seat gondola exclusive: 210 CHF per person
3-seat gondola exclusive: 180 CHF per person
4-seat gondola exclusive: 160 CHF per person
Availability
Stuckli Sky Dining is over for this year, next year's dates will be posted in Spring 2024.
Booking
info@sattel-hochstuckli.ch
+41 41 836 80 80
Information
Please book early because the number of participants is limited. The reservation is binding. When cancelling up to 8 days before the event, we charge 50% of the amount. When cancelling 7 days or less before the event, we charge the full 100%
Menu 2023
Appetizer
Salmon trout tartare from the Brüggli Sattel with cucumber-sour cream spaghetti
Beetroot carpaccio with Avocado tartar

Main course
Saddle of veal (roasted in one piece) with morel sauce, potato gratin and summer vegetables
Homemade morel ravioli with a cognac sauce and asparagus ragout

Dessert
Dessert Trilogy
The vegetarian variant is italic.