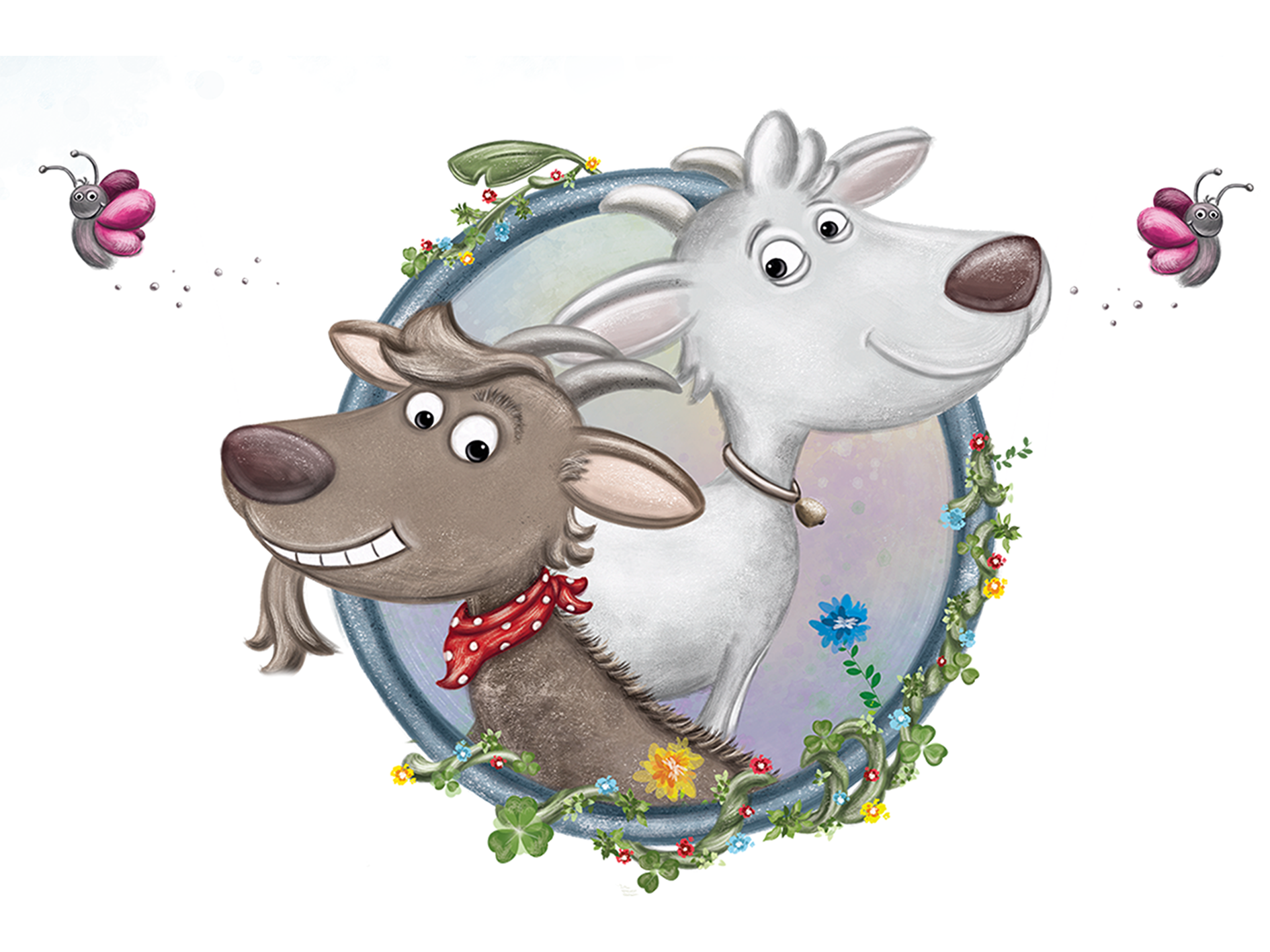 Theme and adventure trail Goat Trail.
Hi eeee-veryone on the theme and adventure trail Goat Trail.
A joint project of Sattel-Hochstuckli AG and Blüemlisberg AG
More informations under www.geissenweg.ch
Kira the little Saanen goat from Blüemlisberg
The sweet little Saanengeissli Kira lives with his family on the beautiful goat farm Blüemlisberg, high up at 1,200 meters above sea level in the hiking and skiing area Sattel-Hochstuckli. In the large barn, which was newly built in 2017, he can play and climb with his many friends as he pleases.
But what it loves most is being outside in nature and gleefully smacking lush grasses, flowers and herbs. It enjoys the warm sun rays and is happy about the young and old visitors it meets on the Blüemlisberg. Especially many families with children walk along the beautiful path over hill and dale to his farm. Because there you can not only eat delicious cake, but also feast on the best goat milk glacé in the world.

From August 2021, there is something very special: a theme and adventure trail. What is absolutely ingenious about it is that this trail tells a lot of exciting stories about goats, is unique in Switzerland and the adventure stations are even translated into English. Simply cool that there will soon be a "Geissä Wäg"!
The path
The "Geissä Wäg" leads from Mostelberg around Engelstock to the Blüemlisberg goat farm.
What you can expect:
7 interactive stations - games, fun and educational for the whole family.
40 minutes - walk for the goat path without stops at stations and fireplaces.
1.5 to 2 hours - walk for the complete LOOPtrail Engelstock.
Ideally suited for families with large-wheeled prams.
Every child receives a Geissä booklet at the mountain station by the start board or at the Blüemlisberg goat farm, which contains a subject to colour in and a talon for the solution word and explains the whole "Geissä Wäg". There is a riddle to solve at each post. Anyone who has found the solution can take part in the competition.
More information?
Visit me at
www.geissenweg.ch

We are already looking forward to your visit.