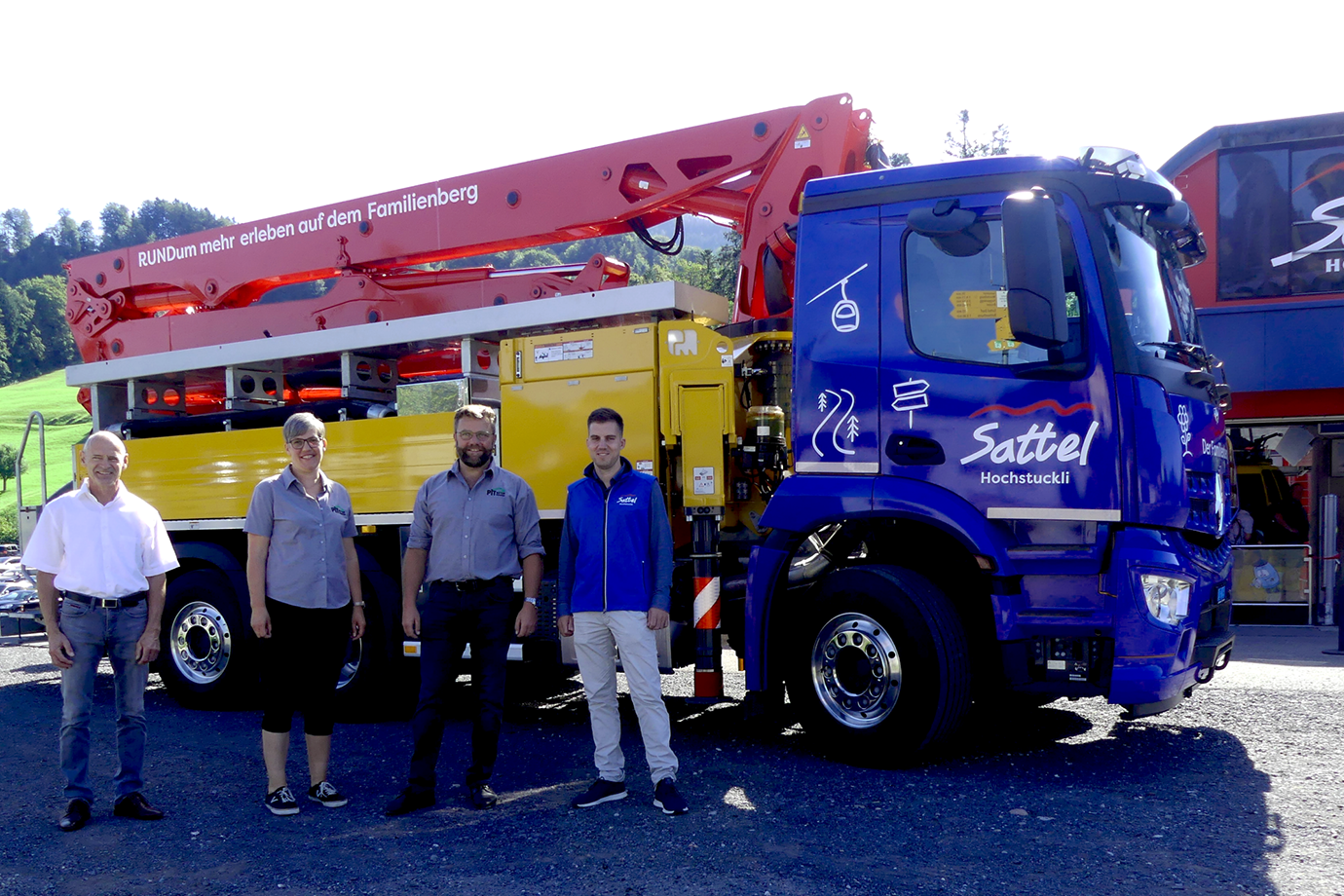 04. September 2023
New advertising medium for Sattel-Hochstuckli AG
Truck-mounted concrete pump truck in the company colors
New advertising medium for Sattel-Hochstuckli AG: Truck-mounted concrete pump truck in the company colors

Sattel-Hochstuckli AG is pleased to present its latest advertising medium: An imposing truck-mounted concrete pump truck, resplendent in the company's eye-catching colors. This creative marketing project was injected by Peter Lüönd of the renowned Pit Autobetonpumpen GmbH and implemented in collaboration with the company Durchstarter Werbetechnik GmbH.

In elaborate manual work the entire driver's cab of the autobetonpumpen truck was provided by the specialists of Durchstarter Werbetechnik GmbH with the foliation and decorated with the saddle Hochstuckli logos. The result is an eye-catcher that is guaranteed to attract attention.
What makes this initiative even more special is the long-standing gondola partnership that links Sattel-Hochstuckli AG with Priska and Peter Lüönd of Pit Autobetonpumpen GmbH. This partnership stands for cooperation and commitment, and it has contributed significantly to this project.
On Saturday, September 2, the photo opportunity with the truck took place in front of the valley station in Sattel. Priska and Peter Lüönd, owners of the company Pit Autobetonpumpen GmbH, as well as Martin Ulrich, Chairman of the Board of Directors and Simon Bissig, Managing Director of Sattel-Hochstuckli AG, were present. This was a good opportunity to capture this masterpiece of vehicle advertising in pictures.
Sattel-Hochstuckli AG is grateful for the long-standing partnership with Pit Autobetonpumpen GmbH and is confident that this new advertising measure will strengthen its presence in the region.