COVID-19 - Protective measures
A great summer season, together we can do it
The protective measures are based on the respective current requirements of the Federal Office of Public Health (FOPH), public transport (öV), the cantonal authorities, the cantonal doctor, the municipality and the industry-specific recommendations of Seilbahnen Schweiz and Gastrosuisse.
General protective measures
The protection concept specifications that have been in force since summer 2020 and have been coordinated with public transport still apply (distance, hygiene, mask requirement).
We wash and disinfect our hands regularly.
We keep the minimum distance of 1.5 m.
Where the distance cannot be maintained, a mask should be worn.
In case of symptoms of illness, we stay at home or in our accommodation.
Using the SwissCovid app helps protect everyone.
Whenever possible, we pay cashless or buy tickets online.


valid from 13.09.2021
Protective masks can be purchased at the valley and mountain stations for CHF 1.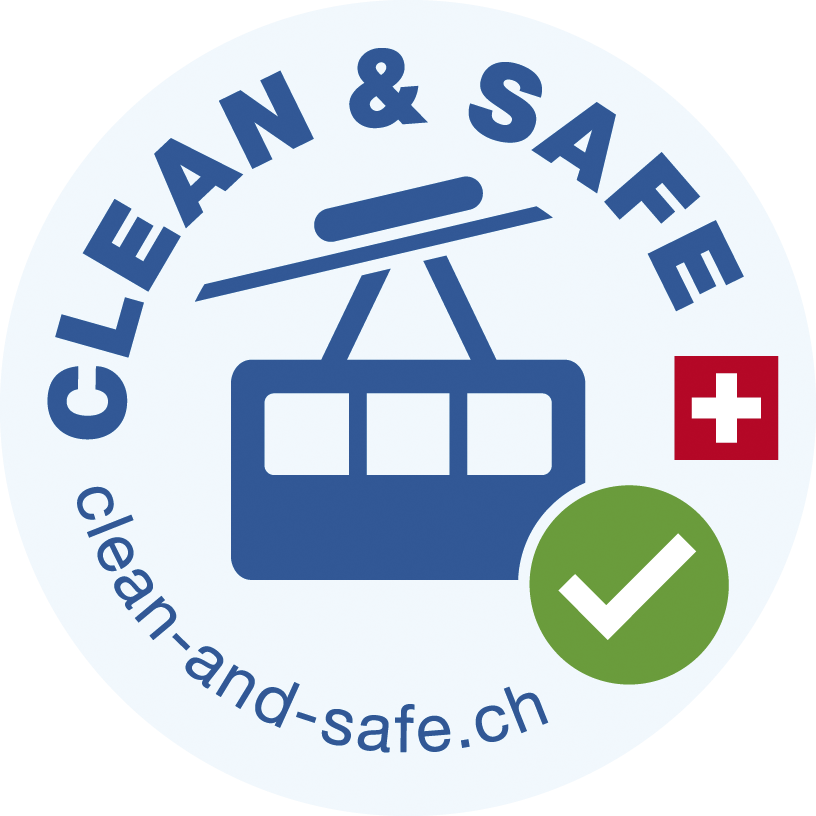 For the protection of us all
The safety and health of our guests as well as our employees is our primary goal. To achieve this goal, we adhere to the legal requirements as well as to our protection concept. Our employees are informed, trained and implement the measures.
Mountain railroad and summer facilities
Masks are compulsory in the gondolas.
The gondolas are cleaned daily and disinfected with a fogging device.
There is no obligation to wear a mask or a certificate at the summer facilities.
The windows in the gondolas remain open during the ride for ventilation.
For an extra charge of CHF 50 you can reserve your own gondola.
Disinfectant dispensers are available at central locations and sanitary facilities.
We have installed glass barriers at numerous locations.
Book online if possible. Most tickets are available in the online store.
Pay the parking ticket already in the morning at the ticket office of the valley station.
Gastronomy
The terraces and the interiors of the restaurants & inns are open.
Inside the restaurants the certificate obligation applies (from 16 years).
The certificate requirement eliminates the mask requirement indoors.
Picking up food/drinks at the kiosk is possible without a certificate.
Hiking trails / theme trails / fireplaces
We focus on personal responsibility and respect
Additional disinfectants will be placed on theme trails (e.g. at post locations).
Further information