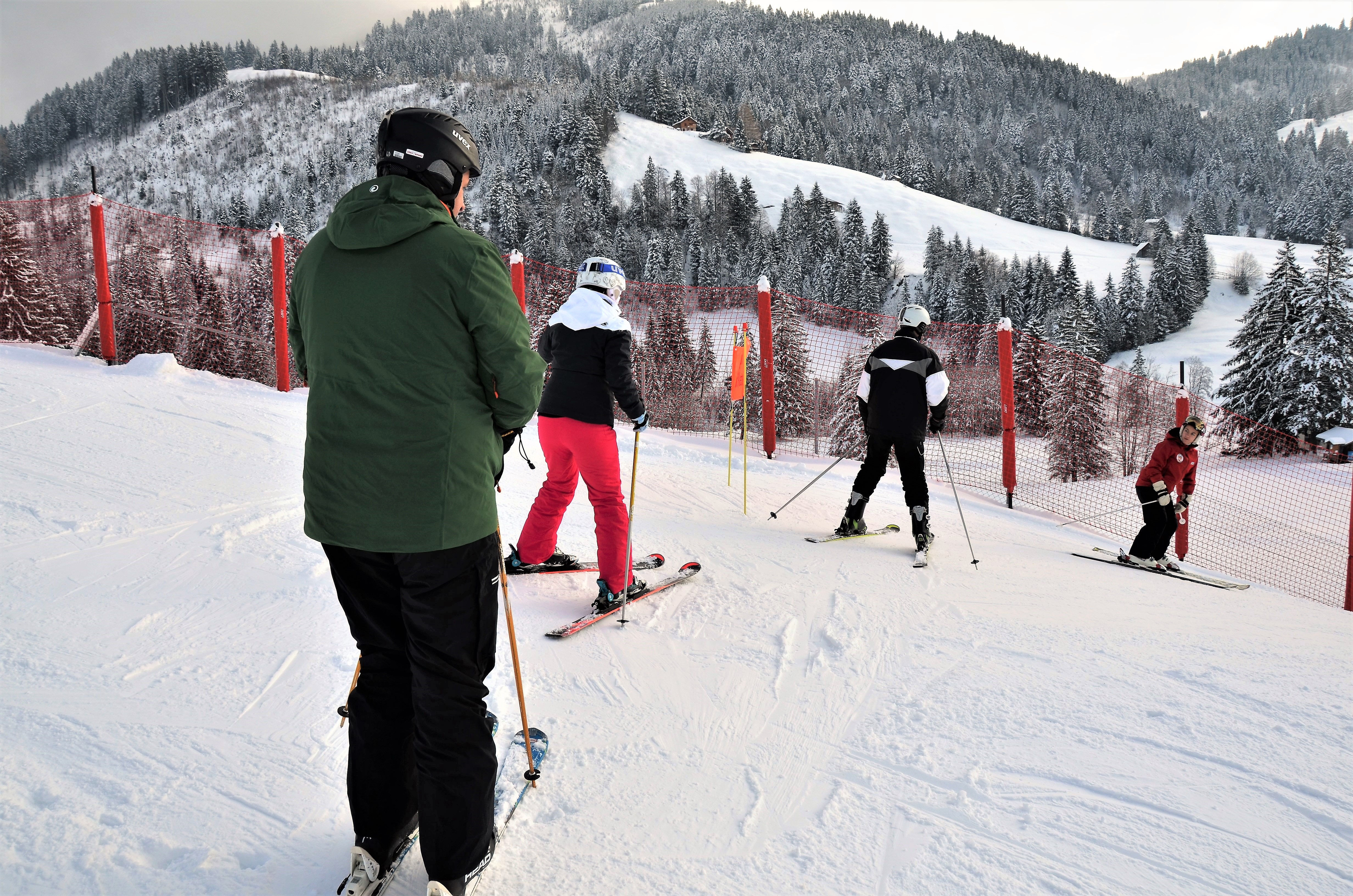 Terms and conditions for the "one, two, ski" package offer
1. The terms and conditions of Sattel-Hochstuckli AG (SHAG) from June 27, 2017 and the terms and conditions of the service providers listed below apply.
2. one, two, ski – package offer
With the "one, two, ski" package, Sattel Hochstuckli will offer, together with partner companies, an easily bookable and inexpensive winter sports ski package for (re-) beginners starting in winter 2017/18. The package includes services required for skiing, including ski equipment, lifts and ski school. Specific terms and validity of the "one, two, ski" packages:
A) A "one, two, ski" package generally contains the following services:
a. Ski equipment from TonySport AG: Skis, ski boots, poles, helmet
b. A day pass from SHAG, valid for all open winter facilities, full-day
c. One (1) group lessons provided by the snow sports school
B) "one, two, ski" package age groups and tariffs
a. Children: from 6 to 15.99 years; children's fare
b. Adults: from 16 years of age; adults fare
C) The services specified in the "one, two, ski" package cannot be purchased individually, but only as a package on the agreed date.
D) The package prices are net prices and cannot be combined with other discounts or promotions.
E) The package is generally offered daily, in the morning from 10:00 - 11:00 or in the afternoon from 13:00 - 14:00.
F) The booked "one, two, ski" package will only become valid following the arrival of a definitive confirmation message from SHAG to the customer.
G) Punctuality: Courses start on time. There is no requirement to wait until all participants have arrived.
H) The ski lessons take place in groups.
I) If a "one, two, ski" package has fewer than 2 participants on a specific date, the snow sports lesson is considered a private lesson and the lesson time can be reduced to one (1) snow sport lesson.
J) SHAG endeavours to respond to customer needs in the composition of the classes. However, there is no entitlement in this regard to joining any group desired by the customer.
K) The customer expressly agrees upon registration that SHAG may provide him or her with information related to the "one, two, ski" package or similar offers.
L) In the case of unsuitable weather or other reasons that seem appropriate to SHAG, SHAG can choose to cancel the "one, two, ski" package. In this case, the customer is entitled to a refund or the receipt of an equivalent compensation on a reasonable date for the customer.
M) The instructions of the staff and persons responsible are to be strictly followed.
N) All lessons have to be paid before the beginning of the lesson! In case of cancellation, the following cancellation fees are due: 5 - 0 days before the lesson 100% of the booking value. Exception: If a medical certificate is presented, the amount will be refunded after deduction of a processing fee of CHF 20.)