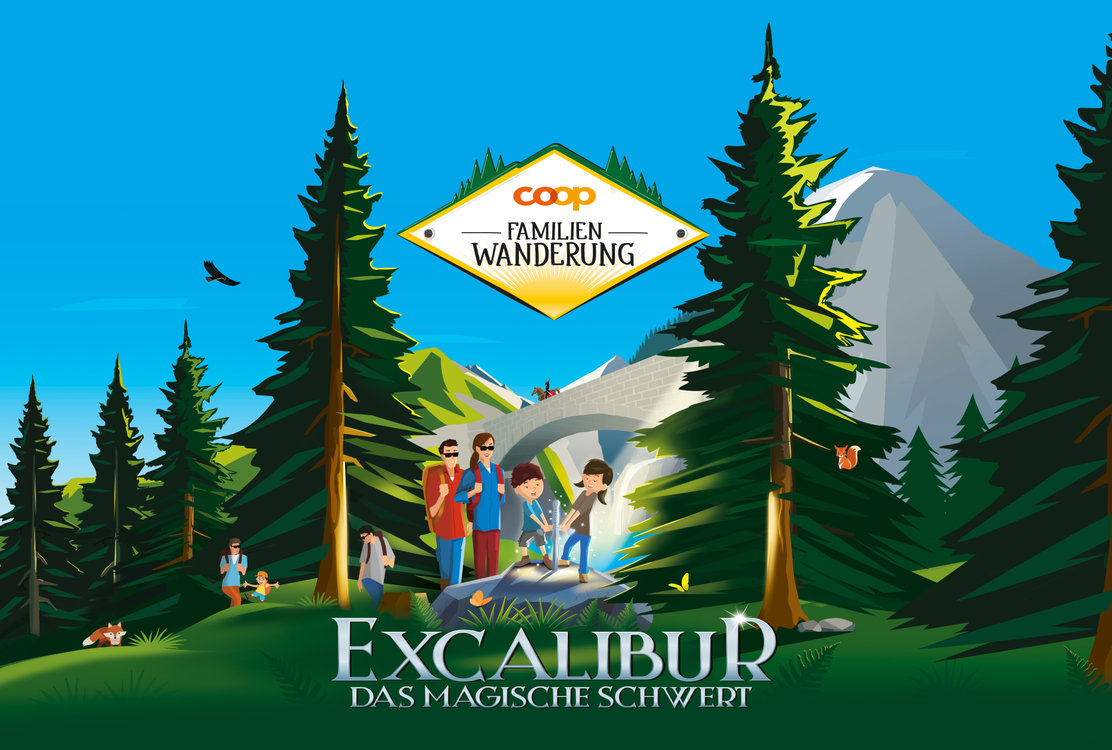 11.06.2023
Coop family hike

					This year's Coop family hike is all about "Excalibur" and takes you on an adventurous journey.



				

							Do you fancy a day out in nature with the family? The Coop Family Hike is a puzzle hike, an interactive theater, a day trip, a short vacation and last but not least an unforgettable experience for the whole family! Immerse yourself in a fantasy world and slip into the role of a fairy tale hero, freedom fighter, sleuth, pirate or other exciting characters.

On the Coop Family Hike you proactively take part in the story, solve tricky puzzles and enjoy a welcome break from everyday life with the whole family. 

Let yourself be enchanted by the beauty of nature on the entertaining themed hikes throughout Switzerland and take part in the exciting stories for young and old.

This year's Coop family hike is all about "Excalibur". King Arthur lives together with his daughter Princess Ramona in a castle in the last kingdom of the land. But they don't live there alone, but together with the wizard Merlin, the court painter Barbara, the blacksmith Stefano, the court jester Pepe and the twelve knights. The king is very popular with all the inhabitants and there is always a good atmosphere. Until one morning loud shouts disturb the peace of the castle...


						
Information
Price
A registration fee of CHF 5.00 per person will be charged (children up to 1 year and dogs are free of charge).
To get to the start, a ticket for the Sattel-Hochstuckli revolving gondola is required.

Adults: CHF 26
Reduced*: CHF 19
Children (6-16 years): CHF 13

* ½-Tax, GA, partner communities & seniors
Time
Visitor spaces are limited again this year: Register in advance for a start time between 8:30 and 12:30.
Reservation
Book tickets
Link
details