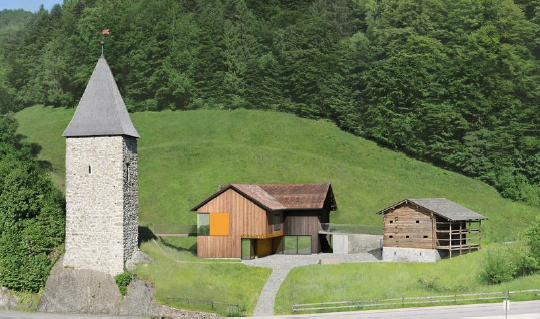 A fascinating combination: Morgarten/Hochstuckli
History, fun, and adrenaline all in one
Visit the enlightening new Morgarten Information Centre and delve into the historic events that created the backdrop to the crucial Battle of Morgarten. Contrast that experience with an excursion into the fun-filled Sattel-Hochstuckli region. It starts with an unforgettable ride in the world's first revolving gondola. Then get an adrenaline rush crossing the Skywalk suspension bridge 58 metres above the Laui Gorge and take in the spectacular panoramic views. It's a perfectly balanced day trip for your corporate event or your social club.
Offer includes
Selected tour
Return ride on the world's first revolving gondola cableway at CHF 19.- per Person (Adult) CHF 9.- (Child)
Hike across the Skywalk suspension bridge (374 metres long)
Those keen to add another thrill can race down the toboggan or tubing run.
Availability
During the summer season, for groups of at least 10 people
We are happy to make suggestions for a leisurely lunch in one of our cosy mountain restaurants.

Offer 1: The battle



Visit to the new Morgarten Information Center near the Letzi Tower (Schornen, Sattel SZ)
and guided tour of the core area of the Battle of Morgarten.




Duration: ca. 1.5 hours
Cost: Fr. 170.-


Offer 2: The monument.

Guided tour of the Morgarten Monument (Morgarten ZG on Lake Aegeri) with cultural and historical explanations,
Presentation of the turbulent history of the monument. Description of the battle.




Duration: ca. 1 hour
Cost: Fr. 150.-

Offer 3: Battle and monument.



Morgarten Information Center, guided tour of the core area of the Battle of Morgarten,
Walk or drive to the monument and short monument tour (Morgarten ZG).




Duration: ca. 2.5 hours
Cost: Fr. 270.-

Offer 4: Life in the Middle Ages.



Visit to the medieval Schwyz House (oldest wooden house in Europe) (Schornen, Sattel SZ).
Guided tour with visit of the house incl. visit information center Morgarten.




Duration: ca. 1,5 hours
Cost: Fr. 170.-

Offer 5: Morgarten Shooting.



Morgarten guided tour followed by a shooting competition (small bore rifle).
A group experience of a special kind!



Duration: 2.5 hours
Cost: Guided tour Fr. 170.-,
Morgarten shooting Fr. 40.-/per person